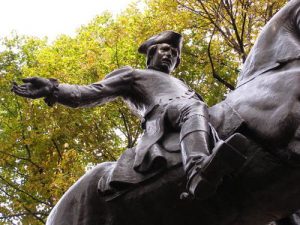 While there are undoubtedly many sites and attractions to visit in Massachusetts, the one that encompasses the most history within a small area is the Freedom Trail. Winding through Boston, this 2.5-mile path takes visitors to 16 different locations of important historical significance. It is relatively easy walking and can take as little as 90 minutes, but most people linger a while at each of the points of interest. Visitors can expect to see burial grounds, churches, historical markers, meeting houses, and museums.
Plan Your Visit
There are several ways in which to explore the Freedom Trail, and it is best planned in advance. Visitors first need to decide if they prefer to walk by themselves with the use of maps and an audio guide. A more popular option is to take a pre-arranged walking tour, made more entertaining by the guides dressing up in 18th-century costumes. The tours may have a theme such as Revolutionary Women or Pirates and Patriots.
Suggested Itinerary
The preferred itinerary will depend on how much time a visitor wants to dedicate to the experience. Taking a shorter section of the Freedom Trail could be done in an hour, or a more leisurely option would be to spread it over two days and combine the trail with dining in historic restaurants. Most people start at Boston Common, which is actually America's oldest park. Its dark history includes the hanging of witches and pirates.
Unmissable Sites
All 16 historical sites are worth a visit. Still, stand-out attractions include Park Street Church, Kings Chapel & Burying Ground, the Old Corner Bookstore, the Old State House, and Faneuil Hall. All tours usually end at the Bunker Hill Monument, a granite obelisk that marks the site of the first significant battle of the American Revolution.